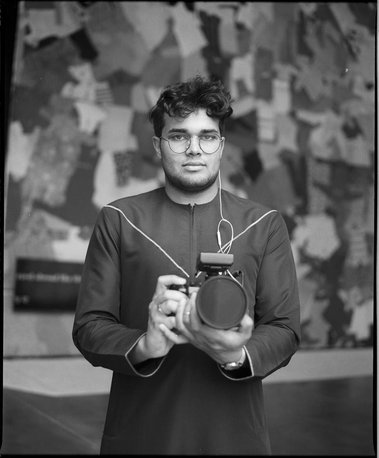 I offer full-stack content creation—from the camera to the web.
Be it a simple .gif to announce new stock of a product, or beautiful images to show off your menu, or even higher-production how-to and advertisement videos—I'm your guy.
With a combined 11 years of experience in graphic design, photography, and more recently video production, I'm happy behind (and in front of) the camera.
My day-job for Gulf Photo Plus is a combination of:
To see my latest work, check out @GulfPhotoPlus, where I currently manage all the communications and social media production.
As you might be able to tell, I am a man wearing many hats, one of them being taking great pleasure in creating brands or helping them create content that we're all proud of. Check out some examples below.
Scripting, Shooting, Editing Video
The videos in this section have all been scripted, shot, and edited by yours truly, for Gulf Photo Plus. Some of them feature me (the bearded fellow) in front of the camera.
Even if I don't appear in front of the camera, as Marketing Manager, these are concepts that I scripted with my knowledge of the difference between paid conversion-advertising on Social Media, and organic Brand Awareness pieces. That is why you'll notice a stark difference in tone between the videos.
Here are a couple of case studies.
SERVICE PROMOTION
Here's an example of how to effectively communicate the nuts and bolts of a complicated and unusual service offering to an audience, in an entertaining yet informative way.
For videos like this, scripting is the most essential building block. The editing and video quality is a polish on top of effective communication usually only achieved by more lucrative brands, but thanks to the advent of more practical camera systems, it's possible to produce these on a budget, too.
⬅ 'The Finest Fine Art Printing'
SOCIAL MEDIA ADVERTISEMENTS
Especially recently, brands often struggle to create video content—they lack the resources to hire models, or aren't effective in front of a camera, or just don't have the ability to set-up an entire shoot on a reasonable budget or with a short draft-to-live window.
This video is an example in how to make the most of recycled footage. Some elements are new for the current situation, but most are recycled, albeit presented in a fresh way.
This is also a textbook social media style paid-ad that includes humour, captures attention within 3 seconds, and encourages clicks.
⬅'Wanna learn photography? Start here.'
EDUCATIONAL
Educational videos are my preferred video to produce, and doing these solo has meant that the skills learned in scripting and shooting are transferrable to any situation where complex or novel information has to be communicated effectively and succinctly to your audience, like interviews or tutorials.
⬅ 'Shooting (& Developing) Film'